Pet-Friendly Flooring in Baton Rouge, LA
Balance beautiful floors with ease of care with our pet-friendly flooring! At our local flooring company, we work with you to decide upon the best type of flooring for the home you share with your pets. We know that your home is your biggest investment, and we want to help you make the most of your living space alongside your pets.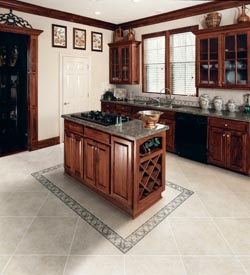 Add beauty and value to your home thanks to our large selection of stylish and durable flooring. You will never sacrifice quality when you use our pet-appropriate options. From sealed flooring to stain-resistant carpet and tile, we have something to appeal to the sensibilities of every pet-lover that wants beautiful floors while accommodating the needs of their dogs and cats.


Choose the Perfect Sealed Flooring for Your Home
Unsealed flooring is not a good idea for a household with pets. Spilled water is enough to ruin unsealed wooden floorings with stains and watermarks, so imagine how badly an active cat or dog can damage you floors. When you want your floors to have the beautiful look of hardwood or laminate flooring, let us install a pet-friendly alternative!
At our flooring superstore, we sell and install sealed flooring that can take anything your pets can dish out. Treated with specially formulated chemicals, this type of flooring features a protective seal that keeps dirt and liquids from ruining its appearance.


Why You Need Stain-Resistant Carpets in Baton Rouge
Homeowners feel a sense of pride and accomplishment when they upgrade their homes, and new carpet is one of the ways you can really enhance your home décor. However, homeowners with pets know how messy their four-legged friends can be, so it's imperative to have stain-resistant carpet.
In addition to adding some value to your home and remaining cozy and comfortable, our special carpets are tough to stain! Manufacturers usually make them with nylon because they want a tough and durable material. They also treat their carpeting with chemicals designed to repel both liquid and dirt. All of these factors combine to create the perfect carpet for homeowners wanting to protect their floors from pet disasters.


Rely on the Experts for Help Choosing Flooring
Choosing home décor can sometimes become a daunting task, especially when you have specific needs such as pet-friendly flooring. Backed by years of experience, our dedicated team of skilled and knowledgeable carpet technicians is ready to help you choose the best type of flooring for your budget, pets, and lifestyle!


Contact our flooring company and ask us anything about our pet-friendly flooring options. We sell and install sealed flooring and stain-resistant carpet to customers in Baton Rouge, Denham Springs, Brusly, Port Allen, New Roads, Baker, Zachary, Central, Walker, Livingston, St. Francisville, and Slaughter, Louisiana.