Ceramic Tile in Baton Rouge, LA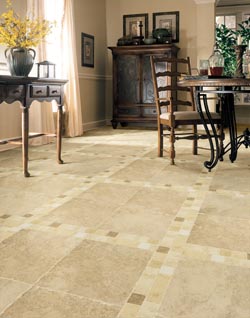 One on the most immediate and affordable ways to update your home is with new flooring. When you're thinking of replacing aging flooring, turn to our showroom for a long-lasting, yet attractive solution in ceramic tile flooring.
Enhance your home's appearance with stylish and durable tile. Ceramic floor tiles are the ideal flooring choice for homeowners who want a beautiful and durable floor. Our flooring store offers creative designs for tile floors made of ceramic to suit the décor of your house. This type of flooring is moisture resistant and easy to maintain, so messes are cleaned up without any worries about staining or ruining your floor.
Practically impervious to stains, scratches, and fading, this flooring is well suited for kitchens and bathrooms, where messes and water are common. Take home affordable ceramic tile in Baton Rouge, LA, at a great discount thanks to our impressive buying power and extensive network of locally owned flooring stores. Our Ultimate Confidence Guarantee for 4-Star and 5-Star selections promises that you are completely satisfied with your selection.
Choose Ceramic Floor Tiles for a Stylish and Elegant Look
Give your home a touch of elegance and a fresh look with a tile floor made of ceramic. The Quick-Pick icons on our website enable you to see the different ranges of shades and texture variations. The unique appearance of our tile floors is created by natural effects of the tile manufacturing process and includes a vibrant mix of colors and textures.
Ceramic tile flooring adds a contemporary look to any home, even though it is often thought of as a traditional flooring option. The innovative designs available for this flooring option are affordable and appealing, adding instant value to any home. To help you choose which kind of floor is perfect for your home, we carry various styles from the following trusted brands:
Are you unsure which of our ceramic tile flooring products is right for you? Just team up with our trained showroom specialists. For years, we've connected local residents with flooring materials that match their budgets and their personal tastes. Visit us today, or go online to browse numerous eye-catching, yet affordable products – you're sure to find something suitable in our selection.
Choose Ceramic Tiles for Worry-Free Maintenance
Of all the flooring materials available today, ceramic is perhaps one of the most popular – especially with parents and pet owners. Other materials aren't quite as easy to clean; in fact, spills and other accidents can ruin some types of flooring, causing stains, warping, and other unsightly issues. Add ceramic to your busy household and enjoy freedom from worrying about flooring damage caused by kids and animals.
Cleaning up spills and dirt is easy with ceramic floor tiles, due to their water-resistant properties and legendary durability. There is only a small amount of care required to maintain the shiny and vibrant look of this kind of flooring. Due to its practical nature, it is perfect for not only kitchens and bathrooms, but also hallways and even living rooms or high-traffic areas.
Why stress out about floor maintenance? When you choose tile, you never need to worry about renting professional, high-grade cleaning equipment. That's because tile is sturdy enough to handle the daily wear and tear of an active household with pets and children.
Tile also keeps your home cool during the summertime, saving you money on air conditioning bills. It won't retain heat, and it'll always look and feel refreshing.
Choosing Your Tile Floor Made of Ceramic
When it comes to your home's appearance, it makes sense to invest in furnishings that complement it. That's why our showroom carries ceramic products suitable for any room in your home. Take your pick of different colors, shapes, and textures when you're shopping for your kitchen or bathroom. With so many options to choose from, it's easy to create the atmosphere you've always wanted.
Not sure which ceramic product is right for you? Ask our professionals for help in picking out the right ceramic tile for your home. When you come to our store, one of our associates is happy to educate you on the available options we offer in your ideal price range, color, style, and brand. Once you find the flooring you like, let our flooring experts install your new ceramic flooring to ensure it lasts for many years to come.
Opt for Professional Installation
Once you've found the perfect flooring product for your home, make another great investment by choosing professional ceramic tile installation with our showroom. Our contractors have the tools, experience, and resources needed to lay down tile in rooms of every shape and size. Rest easy knowing we'll handle your latest purchases (and your home) with the respect they deserve.
There are many reasons we recommend professional flooring installation; however, the most important is that it's for the good of your budget. Allowing an amateur to install your floors could result in expensive damages done to your home or to the tiles themselves. You may be forced to replace your home's underflooring, or even invest in new ceramic.
Simply prepare the rooms where you want your new floors to be installed, and let us handle the rest. We ask you to move any breakable items and furniture from the room to make the installation process easier. Once we are done, we guarantee your satisfaction or are happy to fix any issues for free. With the proper installation, your new floor is sure to last for many years.

Contact us today to have one of our professional flooring technicians guide you through choosing the right ceramic tile flooring for your space. We proudly serve the communities of Baton Rouge, Denham Springs, Brusly, Port Allen, New Roads, Baker, Zachary, Central, Walker, Livingston, St. Francisville, and Slaughter, Louisiana.