Laminate Flooring in Baton Rouge, LA
Get the beauty and durability you are looking for with new laminate flooring in Baton Rouge, Louisiana when you turn to Halpin's Flooring America. We offer you a wide selection of options so you can find the perfect laminate flooring to complement your home's décor. With so many choices available at our store, you are sure to find the ideal laminate floors that fit your needs in looks, performance, and price. Visit our Baton Rouge, LA, showroom today to start browsing our laminate flooring selections.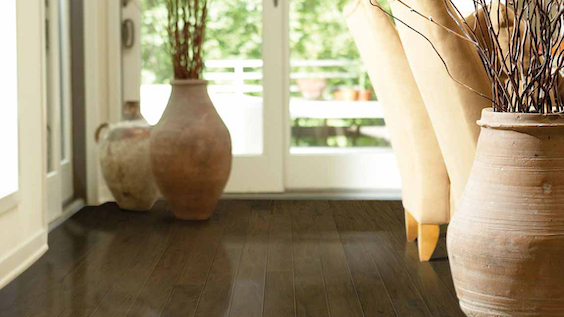 Exceptional Customer Service at Our Local Flooring Store
Our flooring experts work with you to find out what you want and expect out of your new floors, and help you navigate through our vast inventory to find the options that satisfy your aesthetic preferences. Our laminate flooring installation team then works efficiently to ensure a fast, but high-quality installation process. Our attention to detail throughout the entire project ensures you not only get the floors you want but also that they last for years to come. Enjoy the prices of big box stores with the attentive service of a family-owned business at Halpin's Flooring America!
Discover the Types of Laminate Flooring
Whether you prefer a classic look or something more modern, we carry the laminate flooring options that will perfectly suit your tastes. When you visit our store, one of our highly trained staff members helps you select the best laminate flooring option to meet and exceed your expectations. We gather information about your lifestyle and design preferences and show you our variety of options. Our showroom includes laminate flooring brands from leading manufacturers including Mannington, HomeCraft, Mohawk, and more. Our laminate wood and laminate tile flooring selections combine durability, aesthetics, and affordability to allow you to turn your decorating dreams into a reality.
Wood Look Laminate Flooring
Do you want hardwood throughout your entire home? While the appeal is nice, hardwood simply doesn't work for some rooms. That's where our laminate wood flooring comes in. With this option, you can get the look of real hardwood, but the ability to withstand moist environments like kitchens, bathrooms, and basements.
Tile Look Laminate Flooring
Our laminate tile floors offer the same resilience with a variety of ceramic, porcelain, and natural stone looks. With a water-resistant top coat, laminate doesn't let water or other liquids get past the surface. From marble and slate to simple greys, we have a variety of realistic tile looks that perfectly complement your kitchen, bathroom, or any room of your home.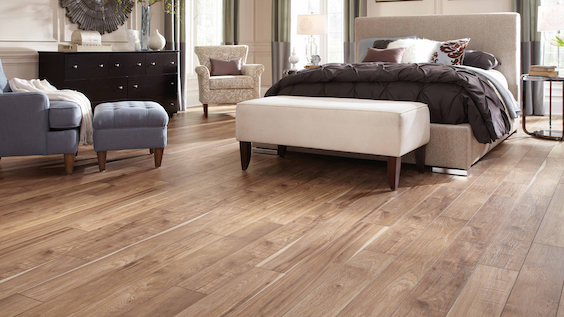 Experience the Benefits of Laminate Floors
At Halpin's Flooring America, we take the time to inform you of all the facts, features, and benefits of laminate flooring so you can understand your investment fully. Learn more about all the advantages of choosing laminate for your Baton Rouge home:
Affordable Design
Demand for affordable wood and tile alternatives continues to rise in Louisiana. With modern printing technology, we now offer a diverse selection of wood and tile looks to match any interior design at a price that meets any budget.
Lasting Durability
Our laminate flooring is strong enough to withstand heavy foot traffic and daily use. With the natural resistance to spills and moisture, your new laminate floors can maintain their beauty and durability for years. That's because it is engineered in four layers. With each layer, the durability of this material increases.
Comfort Underfoot
Additionally, these layers provide more cushion and resiliency, so they aren't as hard on your feet as other flooring materials. This means they are perfect for kitchens and laundry rooms where homeowners spend a lot of their time standing.
Ease of Maintenance
Laminate's top wear layer offers unbelievably easy care. All you must do to keep your floors clean is a simple sweep and occasional mop. Any spills or accidents are easily wiped away with a damp cloth.
Professional Laminate Flooring Installations
Our qualified and experienced laminate flooring installation professionals work as a team with our designers and sales staff to complete your renovation. This means they know what your goals and expectations are from the very beginning. We take the time to do each job correctly, enabling you to enjoy your floors for years to come. Our experienced installers use efficient tools and techniques so no time is wasted and you can have your new laminate floors as soon as possible.
With your satisfaction as our top priority, we back each laminate installation with our Adore Your Floor Guarantee. This promises to fix or replace your floors should any issues arise. All you must do is contact us within 30 days and we will make it right on our own dime.
Why Choose Our Baton Rouge Laminate Flooring Store?
What distinguishes us from other flooring stores? We offer clients an impressive selection of laminate in a broad spectrum of hues and designs at affordable rates. We stay competitive by maintaining excellent buying power in the market. This network of buying power allows us to offer you quality laminates that fit your budget. Discover the possibilities today for all your flooring projects.
Stop by our store, visit us online, or call one of our professionals to peruse our selection of quality laminate floors. No matter how you choose to shop, we are here to make your experience more enjoyable and convenient, all while giving you the exemplary results you deserve.
Contact us today to learn more about our laminate flooring products and installation services! We proudly serve customers in Baton Rouge, Denham Springs, Brusly, Port Allen, and New Roads, Louisiana.