Luxury Vinyl Flooring in Baton Rouge, LA
Halpin's Flooring America, in the heart of Baton Rouge, LA, is your ultimate destination for top-quality luxury vinyl flooring. Get ready to add a touch of elegance and strength to your home with our fantastic selection of luxury vinyl floors.
Luxury vinyl flooring is the real deal. It's got all the charm of expensive hardwood or fancy tiles but without the hefty price tag or the hassle of high maintenance. Talk about a win-win! And with the unpredictable weather in Baton Rouge, luxury vinyl planks and tiles are the way to go. They're water-resistant, so there's no need to stress over accidental spills during BBQs or crawfish boils.
You are in for a treat when you step into our showroom. We've got a jaw-dropping selection of luxury vinyl options, catering to every style and taste. Whether you're into classic designs or modern vibes, we've got just the thing you need.
At Halpin's Flooring America, flooring runs in our blood. We've been proudly serving Baton Rouge for ages, and our team of flooring experts is here to guide you every step of the way. From picking the perfect luxury vinyl planks to installing them perfectly - we've got your back!
So, what are y'all waiting for? Let's make your home shine with the finest luxury vinyl floors in all of Baton Rouge! Swing by our showroom today, and let's make your flooring dreams come true. We can't wait to meet you and help you find the best flooring solution for your cozy abode!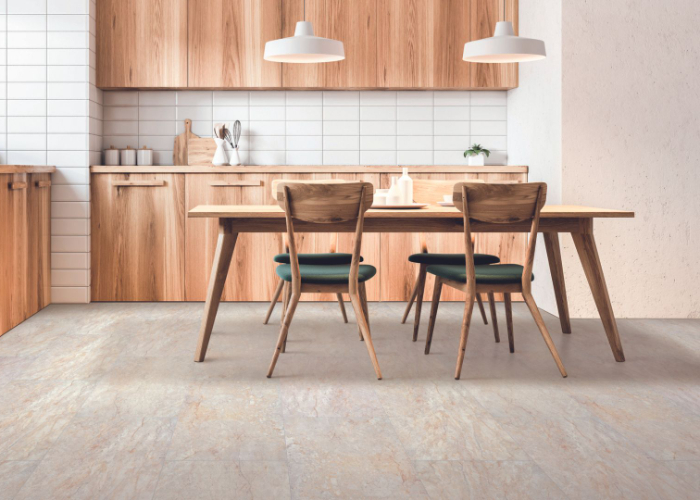 Types of Luxury Vinyl Floors
Alright, let's dive into the good stuff. We've got a fantastic array of luxury vinyl flooring options that'll leave you absolutely floored! Our showroom is stacked with the finest luxury vinyl planks and tiles around. We are here to make your flooring dreams come true. Check it out:
Luxury Vinyl Planks: When you're looking to add that special touch of Southern charm to your home, luxury vinyl planks are the way to go! They bring the beauty of real hardwood right to your feet, but without the hefty price tag. You'll be amazed at how they can transform any room into a cozy haven. They look fabulous, and luxury vinyl planks are also super durable. That means you can host all the family gatherings you want - no scratches or spills with faze them!

Luxury Vinyl Tiles: If you're all about that elegant tile look, luxury vinyl tiles are the way to go. They've got that classy appearance without the hassle of high maintenance. Say goodbye to scrubbing grout and hello to easy-breezy cleanups! Don't worry about Baton Rouge's unpredictable weather - our luxury vinyl tiles are water-resistant!
Water-Proof and Pet-Friendly Luxury Vinyl
Do you have pets and worry about accidents? No problem! Our luxury vinyl floors are not only stylish but also water-proof and pet-proof! You can say goodbye to those little accidents and spills with luxury vinyl floors. They are designed to handle water like a champ, so there is no need to fret over muddy paws or clumsy spills. Easy to clean and maintain, they'll keep your floors looking fresh and new.
Let's talk about pets - these floors can take it all! Scratch-resistant and tough, they won't show any signs of wear and tear from your furry friends' playful antics. Our luxury vinyl floors can handle cat claws or doggie nails like a pro. So, if you want floors that can keep up with your active lifestyle and adorable pets, look no further!
Why Choose Luxury Vinyl Floors?
When it comes to flooring that ticks all the boxes, luxury vinyl floors are the clear winner! Here at Halpin's Flooring America, we've got all the reasons why you should choose luxury vinyl for your home:
Unbeatable Style: Luxury vinyl floors offer a wide range of stunning designs, from realistic hardwood and tile looks to unique patterns. Whatever your style, we've got the perfect match for you!

Durability at Its Finest: These floors are built tough! They can handle high foot traffic, resist scratches, and stand up to everyday wear and tear, making them ideal for busy households.

Water-Proof Wonder: Worried about spills or accidents? Luxury vinyl floors are water-proof, making them suitable for kitchens, bathrooms, and even basements.

Pet-Friendly: If you have fur babies at home, luxury vinyl is your best friend. It resists pet stains, scratches, and dents, ensuring your floors stay in top-notch condition.

Easy to Maintain: Cleaning is a breeze with luxury vinyl floors. A quick sweep or mop will keep them looking shiny and new for years.

Budget-Friendly Elegance: Get the look of high-end flooring without breaking the bank. Luxury vinyl is a cost-effective option that doesn't compromise style or quality.

Quick & Easy Installation: Our expert installers will install your new luxury vinyl floors in no time, saving you time and hassle.
Expert Luxury Vinyl Installation
Once you've chosen your new floors, schedule vinyl flooring installation with a dedicated professional. Our experienced team will remove your old flooring, properly prepare the subfloor, and install your new flooring so it looks and functions great for many long years. Amateur installation could result in unevenly placed tiles, peeling vinyl layers, or even cracked vinyl, causing moisture to seep through and water damage to your subfloor. Our craftsmanship has a proven track record of success in residential and commercial properties, backed by some of the best warranties in the industry, including our Ultimate Confidence Guarantee. If you are unhappy with our work or your new floor, call within 30 days of installation, and we will gladly replace your floors with a similar model, free of charge.


Contact us to learn more about our luxury vinyl flooring selection. We proudly serve Baton Rouge, Denham Springs, Brusly, Port Allen, New Roads, LA, and the surrounding areas.