Exploring Luxury Vinyl Flooring in Baton Rouge, LA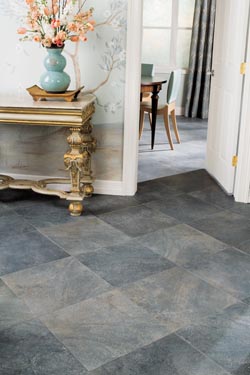 As you set off on your home improvement adventure, it's important to keep all the resources available to you in mind. If you need solid, superior surfaces, Halpin's Flooring America has you covered. At our showroom, you can discover the full range of style and incredible value that's available in our extensive inventory.
Make the most of your project with one of our most popular and celebrated options--luxury vinyl flooring in Baton Rouge, LA. An uncompromising combination of beauty and accessibility, this material allows you to get the highly-customizable look you want at a price point that empowers you to go further, invest more, and extend the results you get to as wide an area as possible.
This versatility makes vinyl perfect for:
Large, Multi-Room Renovations
Custom Home Builds
House Flipping

A Foundation for Comfort
Our customers don't just choose vinyl for its monetary value. In addition to competitive pricing, it offers a diverse array of benefits that make it ideal for almost any project. When you shop for this resilient flooring option with us, you gain access to today's top manufacturers, who engineer our vinyl to provide:
Relative Softness Underfoot
Durable Performance
Easy Cleaning
Adaptable Design
What does that mean for your floors? Put simply; you get your style, your way with our premium vinyl. Whether you're looking for something contemporary and elegant or classic and beautiful, you'll find a product that can achieve your vision. Most importantly, you can even get the look of hardwood or stone without many of the traditional drawbacks of either material.

A New Natural
For as long as there have been homes, wood and stone have been some of the world's most beloved options for flooring. Today, you can enjoy a timeless appeal in your home while also relaxing in modern comfort. Our luxury vinyl tile and plank products take advantage of ever-improving developments in high-resolution texturing and embossing to deliver results that look and feel as authentic as possible.
Even better? Your home's new look won't come with time-consuming and expensive upkeep needs. Instead, you enjoy minimal maintenance and maximized value on a surface designed for real-life wear.

Bringing It Home
Now that you know just a few of the extensive benefits offered by luxury vinyl plank flooring and its tile variants, all you need to add to your home's style and worth is a trip to our store. We have flooring experts on hand to help with every part of the buying process, and we can also help you compare materials and brands to find the best flooring for you. Experience the luxury option that's redefining the limits of home living when you drop by our location.

Contact us today to find out what makes luxury vinyl a must-have for many homeowners. We proudly serve Baton Rouge, Denham Springs, Brusly, Port Allen, and New Roads, Louisiana, as well as the surrounding areas.