Luxury Vinyl Planks in Baton Rouge, LA, Made for Comfort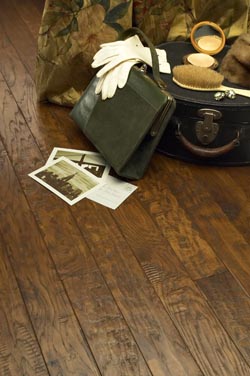 Looking for an easy way to get the look of authentic hardwood that also makes your daily life more comfortable? Visit Halpin's Flooring America. We offer luxury vinyl planks in Baton Rouge, LA, to craft sophisticated style in any space. Taking advantage of the latest developments in manufacturing, our planks are made to combine the best qualities of classic and contemporary floor covering, and you can utilize them for your next renovation or remodel when you choose our attentive team.
In our lavish showroom, you can browse in comfort. Explore the extensive selection of styles and colors available in our inventory with assistance from trained professionals who can answer any questions or concerns as soon as they arise. When you leave our doors, we want you to be completely confident in your future floors.
Why a Luxury Vinyl Plank Floor?
Vinyl planks aren't the only way to get the wood look, but they're certainly one of the most effective. Combining a similar cut to natural planks with high-resolution surface texturing, these products deliver a sense of realism that few materials can match. That way, you never have to compromise your vision.
Vinyl planks come with their own distinct advantages that make them an excellent flooring option and when you shop our collection, you gain benefits you'll grow to love, such as:
Waterproof Surfacing — Where real wood warps, vinyl resists water and stays strong, even in frequently wet areas like bathrooms, kitchens, and utility spaces. In addition, an LVP floor's protective power makes it easy to wipe clean from most messes, saving you time and energy that might otherwise be spent scrubbing.
Installation Ease — Want new floors fast and without a struggle? LVP is the way to go! Our planks can be installed over virtually any surface, and don't even require you to pull up old tile before you get started. This makes them ideal for tight timelines and spaces with preexisting features that you want to preserve, such as kitchens with custom cabinets.
Quality of Life Improvements — Like all vinyl, our planks are a resilient material. This makes them both durable and comfortable underfoot, especially when compared to other hard surfaces. Unlike sheet vinyl or laminates, however, these products offer superior support for insulation and soundproofing.
Don't Wait — Shop Today!
With so many advantages to benefit from, there's no reason to put off your desired upgrade. Visit us now, and we'll help you with everything from product selection to advice on luxury vinyl plank floor installation. Give yourself the gift of exceptional surfaces with help from Halpin's Flooring America.

Contact us to speak with one of our team members about the specifics of your flooring project. We proudly serve Baton Rouge, LA, and the surrounding areas.