Pet-Friendly Flooring in Baton Rouge, LA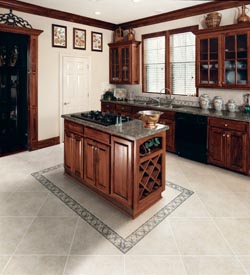 Balance beautiful floors with ease of care with our pet-friendly flooring in Baton Rouge, LA. At our local flooring company, we work with you to decide upon the best type of flooring for the home you share with your pets. We know that your home is your biggest investment, and we want to help you make the most of your living space alongside your pets.
Add beauty and value to your home thanks to our large selection of stylish and durable pet-proof flooring. You will never sacrifice quality when you use our pet-appropriate options. From sealed flooring to stain-resistant carpet and tile, we have something to appeal to the sensibilities of every pet lover that wants beautiful floors while accommodating the needs of their dogs and cats. You should not have to make an exclusive choice between stunning flooring and happy pets.
When you decide to redecorate your home after the purchase of a pet, there is a natural concern that your furniture and floors may be impacted. You can now create a home interior that is as stylish as you want while accommodating the needs of your particular furry friend. An active pet is capable of staining and scratching your flooring in a variety of ways. Whether a dog trots across your carpet with muddy paws or a new cat fails to make it to the litter box on time, any stain to your carpet and tile shouldn't ruin your afternoon.
Unsealed flooring is not a good idea for a household with pets. Spilled water is enough to ruin unsealed wooden floorings with stains and watermarks, so imagine how badly an active cat or dog can damage your floors. When you want your floors to have the beautiful look of hardwood or laminate flooring, let us install an alternative that makes sense for you and your pets.
At our flooring superstore, we sell and install sealed pet-friendly flooring that can take anything your pets can dish out. Each of these flooring products has been specially formulated with innovative chemicals. These treatments give each type of flooring a protective seal that keeps dirt and liquids from ruining its appearance. This additional level of protection allows you the freedom to enjoy life with your pets, without the constant worry of a stain or a lingering smell.
We also have a broad array of options for scratch-resistant flooring. Those nails and claws can leave a mark when your four-legged friends are constantly on the move. You need a surface that is capable of maintaining its appearance even under heavy duress and constant traffic. When you sit down for a consultation with one of our design specialists, we can address these concerns with products that also match your particular approach to home décor.
Why You Need Stain-Resistant Carpets
Homeowners feel a sense of pride and accomplishment when they upgrade their homes, and new carpet is one of the ways you can really enhance the appeal of your home décor. However, homeowners with pets know how messy their four-legged friends can be, so it's imperative to have stain-resistant carpet. Even if your pets are impeccably trained, an accident is sure to happen in one way or another.
In addition to adding a noticeable level of value to your home and remaining cozy and comfortable, our special carpets are tough to stain. Manufacturers usually make them with nylon because they want a tough and durable material. They also treat their carpeting with chemicals designed to repel both liquid and dirt. All of these factors combine to create the perfect carpet for homeowners wanting to protect their floors from pet disasters. Pet-proof flooring is a great investment when you consider the time you will save on scrubbing and resurfacing.
Many of our clients have both pets and children, and parents know the kids are just as capable of staining a carpet. When you make the investment in flooring with this level of resiliency, you save yourself a great deal of money over the long haul. Instead of wasting a great deal of money on stain removers and replacement carpeting, spend that money on those most important to you. Our carpets maintain their vivid color for years, and your pets will love to curl up for a nap on them.
Why You Need Stain-Resistant Carpets
Choosing home décor can sometimes become a daunting task, especially when you have specific needs, such as pet-appropriate flooring. Backed by years of experience, our dedicated team of skilled and knowledgeable carpet technicians is ready to help you choose the best type of flooring for your budget, pets, and lifestyle. We make finding the right flooring for your particular interior an enjoyable experience, and our 5-Star rating system allows you the freedom to find the price that works best for you.
Many of our 4- and 5-Star flooring options are backed by our Ultimate Confidence Guarantee. We also take the time to ask you about the way you live your life. It is important to have an understanding of how different flooring types react to differing environments. Having a house full of pets is one of those important factors to consider. We want you to be completely satisfied with your flooring purchase, so we can be your showroom of choice for the next project you plan.
Build a home that makes it easy to live in harmony with your pets. Instead of hiding the interior of your home to avoid the embarrassment of pet stains and scratches, open your home up to the world. Everyone at our flooring store is ready to serve you.


Contact us today for pet-friendly flooring that is capable of withstanding the scratches and stains that you can expect in your home. We proudly serve customers in Baton Rouge, Denham Springs, Brusly, Port Allen, and New Roads, Louisiana.