Tile Flooring in Baton Rouge, LA
Does your home need a flooring makeover? When you turn to Halpin's Flooring America, you can get everything you need to transform your home's floors to reflect your style and better meet your functional needs. With our quality tile flooring, you can add a new surface to your home that combines beauty and durability.
Whether you are looking for a sleek and modern design or something that's more classic and timeless, you can find it at our local Baton Rouge flooring store. Our vast inventory holds limitless possibilities for your new tile floors, and our knowledgeable staff can help you sort through it all. Visit our Baton Rouge, LA, showroom today to browse all our gorgeous tile products!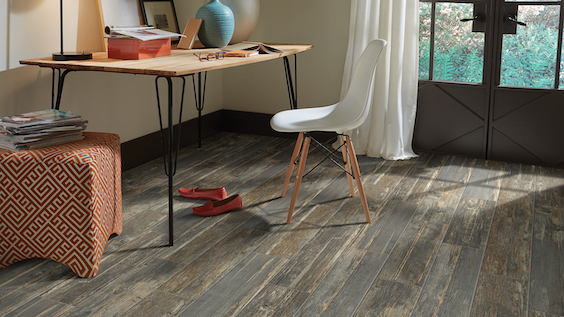 A Tile Flooring Selection That Guarantees Satisfaction
When you come to our flooring store, our experts take the time to get to know your needs. We offer a variety of tile flooring types, allowing you to find exactly what matches your needs. No matter what type of tile you choose, you'll enjoy superior quality with our trusted tile brands, including Design Distinctions and Floorcraft. Count on our professionals to put your needs first throughout the entire flooring process. Choose from the following types of tile floors:
Ceramic Tile Flooring
Ceramic flooring is composed of natural clay materials fired at high temperatures to form a dense flooring solution. Not only is ceramic tile eco-friendly, but it is also known as the most affordable and versatile type of tile flooring. Choose from a variety of glazed or unglazed finishes for a beautiful cool-to-touch surface that's easy to clean. Due to its durable nature, ceramic is perfect for kitchens, bathrooms, hallways, and even living rooms or high-traffic areas.
Porcelain Tile Flooring
Porcelain is similar to ceramic tiles, only fired at higher temperatures for an exceptionally dense finish. You can use porcelain tile for casual or formal settings, and enhance the beauty with accent trims of different colors or tile materials. With its strength, visual appeal, and ease of maintenance, porcelain tile are smart choices for any space
Stone Tile Flooring
If you are looking for a more natural look, our stone tiles comes in an array of earthy colors and textures, and it's durable enough to withstand high-traffic areas. Stone tile floors bring a calming appeal to bathrooms, kitchens, and outdoor spaces with lasting strength. Browse a variety of slate and stone tile options at our Baton Rouge flooring showroom.
Wood Look Tile Flooring
As its name suggests, wood plank tiles are made from clay-based materials and manufactured to take on the appearance of solid hardwood. Our showroom features wood-look tile flooring in a variety of species, cuts, and textures. From warm and majestic to bright and radiant, there's a style that is right for you.
Wood plank ceramic and porcelain tiles offer a dense waterproof composition, thanks to its manufacturing process. This creates a hard and durable surface that will not warp or change shape when exposed to moisture. Impart the timeless ambiance of pine and mahogany to any room throughout your property—including the bathroom, kitchen, and basement.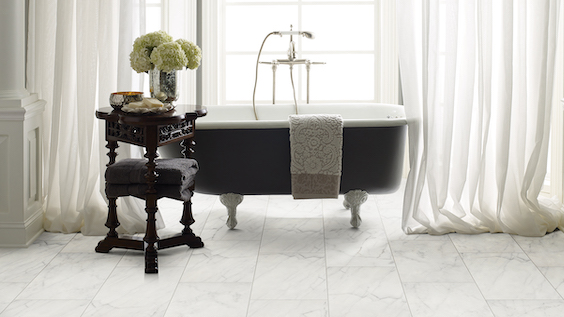 The Advantages of Tile Flooring for Your Louisiana Property
Tile upgrades not only the beauty but also the functionality of your floors. At Halpin's Flooring America, we empower you with the tools and resources you need to turn your interior design ideas into a reality. Our knowledgeable and experienced flooring consultants are here to provide remodeling ideas and provide support. We take the time to learn about you, your project, and your interior design goals. We'll help you work out all of the details, so you attain picture-perfect results that last. Discover all the advantages of choosing tile flooring for your Baton Rouge home:
Simple Cleaning & Care: As far as flooring options go, tile is extremely easy to clean. Since the surface of this flooring is solid, dirt and dust wipe away with little effort. With sturdy tile, you will spend less time and energy cleaning.
Waterproof Flooring: The non-porous surface doesn't allow liquids to sink in, which not only reduces the chances of staining but also stands up against mold and mildew. This makes tile flooring ideal for high-moisture areas like kitchens and bathrooms.
Versatile Design: We offer a large selection of tile sizes, shapes, colors, and textures for nearly endless possibilities in design. Mix and match to create a floor that truly expresses your style. Our designers can help create custom options that give you a one-of-a-kind result.
Long-Lasting Durability: No matter which type of tile flooring you choose, you can count on its quality for lasting durability in active households.
Keeps Your Home Cool: Louisiana's consistent warmth and humidity may make going outside uncomfortable. However, tile keeps your home naturally cool and comfortable. Ceramic and porcelain disperse heat easily, which means your AC will not have to work as hard to maintain good indoor temperatures.
Local Tile Flooring Installations with Our Contractors
Our commitment to customer service extends past helping you choose the perfect tile. We offer professional tile flooring installation as a part of our comprehensive flooring services. Our designers help you create the aesthetic you desire, but our installers ensure the durability of your new tile flooring. You don't have to feel limited by the standard grid pattern—you are free to think outside the box. Our contractors take their time to ensure every step of the installation process is performed correctly. This not only ensures your new tile is placed precisely but also extends the life of your floors.
We believe so strongly in your peace of mind and satisfaction that we back each installation with our Adore Your Floor Guarantee. With our help, you can enjoy a stress-free tile flooring remodel; we've got you covered from beginning to end.
Contact us to learn more about our selection of tile flooring. We are proud to serve Baton Rouge, Denham Springs, Brusly, Port Allen, New Roads, Baker, Zachary, Central, Walker, Livingston, St. Francisville, Slaughter, Louisiana, and the surrounding areas in Southeast Louisiana.