Vinyl Flooring in Baton Rouge, LA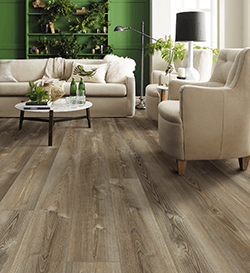 Redesign the interior of your home, and enjoy an enhanced, more appealing living space by purchasing our stylish vinyl flooring. Our local flooring center makes it easy and affordable to replace the old and worn floors in your home. With competitive pricing and a selection that includes any color and texture you might want, there has never been a better time to plan a full flooring replacement than now.
Instead of limiting your options and paying too much for the flooring you have always dreamed of, stop by our expansive showroom and meet with one of our experienced design professionals about new vinyl tile flooring. Every member of our team is focused on your complete satisfaction, and that includes finding the right variety of vinyl sheet flooring for your kitchen and bathroom. If you are looking for a new look for your business, this cost-effective flooring option can be just the thing your bottom line needs.
Get the character and appeal of natural wood in places it normally isn't suited for by choosing from our selection of vinyl plank flooring. When you work with our involved design team, you can find the right match for your interior décor. In addition, you can take advantage of our professional vinyl flooring installation process. This helps you protect your investment, complete your project on time, and preserve the longevity of your new floors.
Stylish & Durable Vinyl Tile Flooring
After a full design consultation with our flooring specialists, many of our customers find they need a specific option that combines traditional appeal and lasting value. Maximize the impact of your design budget by taking advantage of our vinyl tile flooring. If you want a look that is stunning and also practical, this flooring may be just the durable and cost-effective option that suits your active household.
See the difference that this visually appealing and easy-to-maintain flooring option can make in your home. With so many colors, patterns, and sizes to choose from, you can quickly start enjoying the lasting color and ease of maintenance that comes with these innovative new floors. This variety of vinyl flooring is easy to cut into a number of distinctive patterns, so your installation specialist has the freedom to create an original pattern that is perfectly suited to your aesthetic preferences. With our professional installers, you are sure to protect your investment and enjoy your new floors for many years to come.
Vinyl Sheet Flooring Saves You Time
Create a seamless look across your entire floor that is easier to clean with our selection of vinyl sheet flooring. Your family and friends will be impressed by the unbroken pattern, and your cleanup becomes a breeze. Without the seams and segments that come with every other variety of flooring, there are more areas for dirt and dust to hide.
With this seamless surface your subfloor is protected from moisture and your floors look great for decades to come. And with our Ultimate Confidence Guarantee, your complete satisfaction with your flooring purchase is assured. We are focused on building a lasting relationship with you and your family. This means providing you with the finest brands in the flooring industry today at prices you can afford.
Value-Added Vinyl Plank Flooring
Bring the added character and warmth that comes from natural hardwoods to rooms that experience high levels of moisture and changes in temperature. The natural tendency of hardwood to expand and contract in these conditions has presented a design challenge to those renovating their kitchens and basements. Now through advancements in flooring manufacturing, you can enjoy the appeal of wood wherever you want with our vinyl plank flooring.
These planks have the look and feel of natural hardwood, and they work great in places like your bathrooms and kitchen. Expand the scope of your design horizon by taking advantage of this affordable advancement in flooring technology.
Vinyl Flooring Installation Makes a Big Difference
Get the best fit possible for your unique living space by taking advantage of our vinyl flooring installation process. Our team is equipped with the right tools for accurate measurements, and we help you avoid the prospect of wasted materials and endless delays. Your family will be able to get back to the business of living, and your flooring will be able to stand the test of time. Avoid costly repair projects down the road with the help of our team, and always feel confident in the flooring you have purchased.

Contact us today and get a better idea of the costs involved with new vinyl flooring with one of our free consultations. We proudly serve customers in Baton Rouge, Denham Springs, Brusly, Port Allen, and New Roads, Louisiana, and surrounding communities.