Wood-Look Tile in Baton Rouge, LA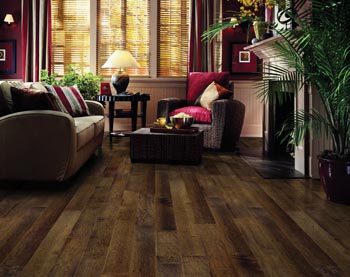 At Halpin's Flooring America, we make it easier to turn your remodeling ideas into a reality. We are your source for wood-look tile in Baton Rouge, LA. When you visit our location, you will find the products you need to transform your home. Whether you are changing up a single room or have plans for your entire interior, we're here to cover all of your flooring needs.
The Advantages of Wood-Look Flooring
Enjoy the beauty of Nature anywhere throughout your home. As its name suggests, wood plank porcelain tile and its ceramic counterpart are made from clay-based materials and manufactured to take on the appearance of solid hardwood. Our showroom features wood-look flooring in a variety of species. From warm and majestic to bright and radiant, there's a style that is right for you.
Wood plank ceramic and porcelain tile have a dense composition, thanks to its manufacturing process. A special glaze is also applied to give it strong resistance to water. This creates a hard and durable surface that will not warp or change shape when exposed to moisture. Now, it is possible to impart the timeless ambiance of pine and mahogany to any room throughout your property—including the bathroom, kitchen, and basement.
A flooring as durable as wood-look tile also means that it is easy to keep neat and clean. Since the surface of this flooring is solid, dirt and dust wipe away with little effort. With this flooring type, you will spend less time and energy cleaning.
With its strength, visual appeal, and ease of maintenance, porcelain and ceramic wood tile are smart choices for your home. Another great feature of this flooring type includes its heat dispersal properties. The warm, summer months may make going outside uncomfortable. However, with this flooring material, your home will remain cool and comfortable. Ceramic and porcelain disperse heat easily, which means your AC will not have to work as hard to maintain good indoor temperatures.
Your Dependable Flooring Source
Find the right flooring that meets your needs: we're with you at each stage of your project. Our showroom has teamed up with the leading manufacturers to provide a wide-ranging catalog of ceramic and porcelain wood tile. When you shop with us, you'll soon discover that your interior design options are limited only by your imagination.
We empower you with the tools and resources you need to turn your interior design ideas into a reality. Our knowledgeable and experienced flooring consultants are here to provide remodeling ideas and provide support. We take the time to learn about you, your project, and your interior design goals. We'll help you work out all of the details, so you attain picture-perfect results that last.

Contact us to learn more about our selection of wood-look tile flooring. We are based in Baton Rouge, LA, and serve Denham Springs, Brusly, Port Allen, New Roads, and the surrounding area.